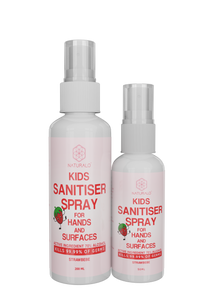 KIDS STRAWBEBE SANITISER
For hands & surfaces
KILLS 99.99% OF GERMS & BACTERIA
Directions:
Spray and cover all surfaces of the hands.
Rub hands until dry.
Not just for hands though - spray surfaces on the go such as trolley handles, door handles, atm/eftpos machines etc, no water required.
Made with out
•Triclosan
•Triclocarban
•Benzalkonium chloride
•Artificial dyes
INCI: Natural Ethanol Alcohol, H20, Vegetable Glycerol, Fragrance, Cocamidopropyl betaine, D-Panthenol (ProVitaminB5)
Naturalo Product • Vegan Product • Cruelty Free • Paraben Free
Available in 50ml, 200mL, 500ml and 1 litre
We also have 5litre, 10litre, 20litre + sizes available. Please enquire for larger quantities.