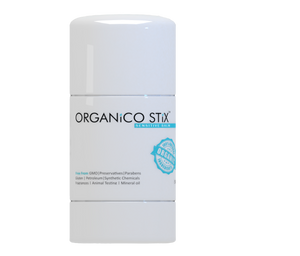 ORGANiCO STiX - SENSiTiVE All Purpose Balm
A very gentle yet effective 'fragrant free' formula, that is suitable for all ages -  including new born babies with unwanted skin conditions such as cradle cap, nappy rash and flakey skin.
Highly recommended for use on all skin types, especially sensitive prone skin and can also be used by breastfeeding mothers as a 'soothing nipple balm'.
With our easy to use design; our complex packaging makes it ideal to provide on the spot nourishment - anywhere at anytime.

 Apply to rashes, burns, blemishes, bruises, rough dry - chapped and cracked skin, fresh tattoos, minor cuts and wounds, insect bites, split ends, cuticles, sunburn, fine lines or any desired area, needing ultimate shooting and conditioning support.
Keep in mind that a little goes a long way; what works for some, may not work for all so we recommend a patch test. If irritation occurs, discontinue use and consult a doctor.
INCI: *+Olea europaea (Olive) oil, *+Cocos nucifera (Coconut) oil, *Persea gratissima (Avocado) oil, *Cannabis sativa (Hemp) oil, *Borage officinalis (Borage) oil, *Theobrama cacao (Cocoa) butter, *•Micropiper excelsum (Kawakawa) extract, *Calendula officinalis (Calendula) extract, *Cera alba (Bees Wax), Natural Tocopherol (Vitamin E)

*Certified Organic •Wildcraft +Extra Virgin
Size:50g Net